PRET-Extractor
---
Index
PRET-Extractor (PRoduct Evolution Tree Extractor) is a tool that extracts the Product Evolution Tree, approximation of the evolution history of software products, from source code of products.
A large number of software products may be derived from an original single product. Analyzing such a large number of software products is a difficult task for developers.
Since analyzing a large number of software products at once is a difficult task for developers, it is efficient that conduct the analysis on typical products first and then expand the scale as necessary. If an evolution history of software products is available, developers could recognize the relationships among the products and choose representatives for their analysis. However, such a history of products is often not available for developers. In the worst cases, developers only have access to source code of each product.
PRET-Extractor takes source code as input and visualizes a Product Evolution Tree. Similar products are connected on the tree so that users are able to understand the relationship among products.
Illustration
Pile of software product -> arranged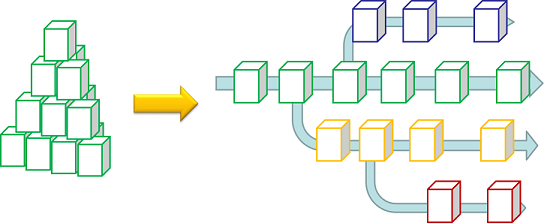 Licence
The MIT License
Copyright (c) 2013 Tetsuya Kanda
Permission is hereby granted, free of charge, to any person obtaining a copy of this software and associated documentation files (the "Software"), to deal in the Software without restriction, including without limitation the rights to use, copy, modify, merge, publish, distribute, sublicense, and/or sell copies of the Software, and to permit persons to whom the Software is furnished to do so, subject to the following conditions:
The above copyright notice and this permission notice shall be included in all copies or substantial portions of the Software.
THE SOFTWARE IS PROVIDED "AS IS", WITHOUT WARRANTY OF ANY KIND, EXPRESS OR IMPLIED, INCLUDING BUT NOT LIMITED TO THE WARRANTIES OF MERCHANTABILITY, FITNESS FOR A PARTICULAR PURPOSE AND NONINFRINGEMENT. IN NO EVENT SHALL THE AUTHORS OR COPYRIGHT HOLDERS BE LIABLE FOR ANY CLAIM, DAMAGES OR OTHER LIABILITY, WHETHER IN AN ACTION OF CONTRACT, TORT OR OTHERWISE, ARISING FROM, OUT OF OR IN CONNECTION WITH THE SOFTWARE OR THE USE OR OTHER DEALINGS IN THE SOFTWARE.
v2015 - IEICE
IEICE Journal version
Source
fix bugs and tokenizer, add new weighted cost function
v2013.08 - SPLC
SPLC2013 version (2015.07 fix bug for crash on Linux)
Tetsuya Kanda

, Takashi Ishio, Katsuro Inoue: "Approximating the Evolution History of Software from Source Code", IEICE TRANSACTIONS on Information and Systems, Vol.E98-D, No.6, pp.1185-1193, June 2015 [more]

Tetsuya Kanda

, Takashi Ishio, Katsuro Inoue: "Extraction of Product Evolution Tree from Source Code of Product Variants", Proceedings of the 17th International Software Product Line Conference (SPLC 2013), pp.141-150, Tokyo, Japan, August 2013 [more]
Eratta
Datasets
Product Evolution Tree
Datasets
All Product Evolution Trees
Changing threshold
* when the threshold is 1.0, the direction is indefinable
---
Back to toppage